Our Movie Night at the school has again been postponed a week due to rain this Friday. We are hoping that next Friday October 29th is the lucky date! Same time at 6:30pm and Movie starts at 7:00pm. Bring warm clothes, blankets and money for popcorn. 
 
Order your 2021-2022 Tea Towels online by Nov. 5 Your students have been busy at school creating a self portrait for this year's Pacific School Tea Towel. Order your 2021-2022 Pacific School Tea Towels online at pacificschoolfoundation.org by Friday November 5th. Available in Black, Navy Blue and Red. Each tea towel is $20 each. Purchases of 3 or more tea towels price are discounted $18 each. A portion of each tea towel goes to supporting programs at Pacific School that are not covered fully by state and federal funding. Pick up tea towels at the end of November. Makes an excellent holiday gift! Questions contact president@pacificschoolfoundation.org
Below is last year's tea towel design for reference.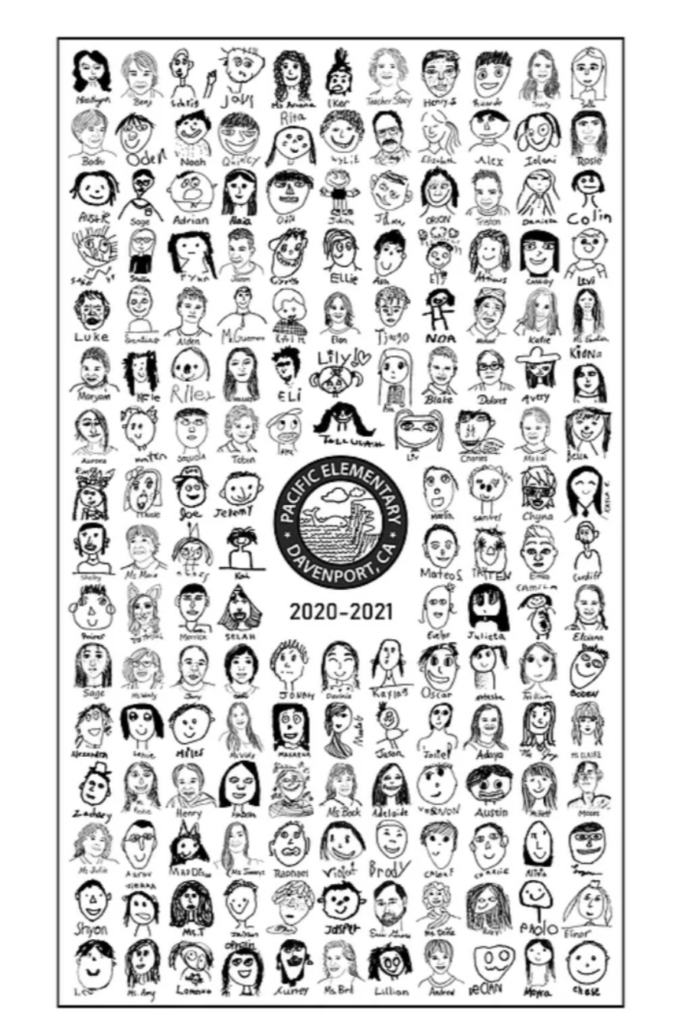 Potato Night, A Pacific School TraditionFriday November 5th from 6pm to 8pm at Pacific Elementary SchoolCome and decorate potatoes in this family fun Pacific School Tradition! This school-wide community building evening has potato crafts and a potato fashion show at 7:30pm! We will craft, we will dance and have some fun! This is an outdoor event.  Due to covid, we will not be having a potato potluck. Please eat dinner first and come to school to enjoy an evening of potato fun! If you wish, you can dress up in Potato themed costumes!